My very first website was built using HostGator. I'm still filled with fond memories to this day. You'd be hard pressed to find a more rock solid and reliable host, especially when you're just starting out online.
Regarding speed, HostGator cloud hosting continuously comes out on top, with a lightning-fast speed of ~280 ms. Beyond loading speeds, it's an incredible host for those who want to build WordPress websites and blogs.
Overall, HostGator is a very versatile host that caters to a wide variety of website owners.
Below, in our detailed HostGator review we cover every possible detail of HostGator's various hosting plans, so you can decide if it's the right host for your website.
Why You Need a Quality Web Host Like HostGator
Creating a website and getting it live on the internet is easier than ever. Still, the common misconception that you need to be a web designer or website developer pervades. In some cases this is true. For instance, you want to fully design every element of your website from the ground up.
However, by choosing the right hosting provider, you can greatly streamline this process. From, website builders that'll help you quickly build your site, to one-click installs of popular CMS like WordPress.
But, far from just helping to streamline the process of getting your site online the right web host will help to ensure your site stays secure, loads quickly, and a lot more.
The host you end up using can make or break your success online. For example, with a low-quality host your site will have slower loading speeds, dealing with support will be a headache, plus you'll have low levels of reliability, and be more susceptible to hacking.
If you're a beginner, meaning this is your first website, then you'll want to go with a host who understands what it's like to build your very first website.
Although Hostgator offers a ton of different types of hosting, they truly place a focus on beginners who are early on in their online journeys.
HostGator is a web host that works with you to achieve your website goals, not against you.
The History Of Hostgator

HostGator has humble roots. It was founded by Brent Oxley, a student at Florida Atlantic University, back in 2002. It's achieved growth year after year, ever since it started.
In 2012 HostGator was acquired by Endurance International Group, who also runs hosting companies like Bluehost. It's official office is in Houston, Texas, but it now has offices all over the world.
It serves a very large portion of the market ranging from total beginners to website veterans, and currently hosts over 9 million websites.
HostGator has sustained high levels of growth since its inception. Which means they're doing something right. Typically, you'll have one to two hosts that break out every year, only to fade back into obscurity just as fast as they came onto the scene. But, not HostGator, they've remained one of the most popular hosts out there since their inception.
The ability to remain that competitive and popular over the long-term really says something about the quality of service they provide.
The Pros Of Hostgator

HostGator has a lot going for it. It's one of the most popular hosts in the world for a reason.
Here are some of the biggest advantages to going with HostGator web hosting:
Fast Server Speeds
HostGator is fast, even on the basic shared hosting plans. They regularly score in the top of hosting performance for beginner web hosts. Of course, a lot of your website's speed will also depend on if you're following website speed best practices.
But to get the most out of your site, you'll need a host that provides a high performance foundation to build from.
First Time User Discounts
If you're a first time HostGator user then you can pick up a hosting package for very cheap. We're talking less than a cup of coffee.
Now, the overall price of hosting will go up in time, but hopefully, your site will be profitable by then and the increase won't even make a dent.
Customer Support
HostGator provides 24/7 customer support over the telephone and online chat. While the telephonic support representative provides you with detailed instructions related to any issue almost instantly, the online chat support is rather slow. However, their tech support knows what they are talking about and are quite knowledgeable. They also offer a ticketing system for customer support. On top of that, video tutorials, support forums, and other support mediums are also available.
Multiple Support Channels
HostGator offers a ton of different support channels. For example, you'll get access to 24/7/365 support through live chat, email, phone, and even via social media.
The response times might not be super fast, but they'll always go the extra mile to help resolve any issues you might be experiencing.
Solid Server Uptime
Right out of the gate HostGator offers 99.9% uptime. This is pretty standard across the board for most hosting companies. But, it's still something you'll want your host to have. Any time that your site spends offline, your losing revenue, and delivering a poor user experience.
Beyond just having solid uptime, they back it up with a guarantee. If your site's uptime falls short of their 99.9% uptime, then you'll get compensated accordingly.
Free Site Migration and Installs
If you're switching to HostGator from another hosting provider, then this process couldn't be simpler. All you need to do is sign up for hosting, and their team will take care of all the technical steps. This is perfect for beginners who don't want to get their hands dirty with a complex site migration.
Also, if this is your first time using the service, then you can take advantage of the number of one-click installs they offer. Installing a CMS on your site takes nothing more than clicking a few buttons and entering the name of your site.
These tools and services make it very easy to get your site off the ground, even if you don't have any technical skills.
Nearly Unlimited Hosting
Another really great feature of their hosting plans are their unlimited nature. This means you get access to things like unlimited disk space, unmetered bandwidth, and unlimited databases. On top of that, you can also create an unlimited number of email addresses and domain names on your account (as long as you aren't using the most basic shared hosting package).
A lot of hosts offer unlimited packages as well, and typically this is more of a phrase than it being completely unlimited. Essentially, there will be limits on your account. Even with HostGator.
However, let's say you're on a shared hosting package and you're using it run one or two sites. The chances are very slim you're going to run into any resource issues.
HostGator clarifies their unlimited hosting and your account will remain unlimited unless you do any of the following:
Don't create more than 100,000 files via cPanel
Don't check more than 30 emails or send more than 500 emails per hour
Don't run more than 25 cPanel processes at the same time
Don't use more than 25% of the server's CPU for more than 90 seconds
As you can see it'll actually take a lot of work in order to run into those limits. The only one you might bump into is the server CPU usage. If you're experiencing a massive volume of traffic, then this could potentially be an issue.Visit HOSTGATOR
The Cons Of Hostgator

HostGator has a lot going for it. It's one of the most popular hosts in the world for a reason.
Here are some of the biggest advantages to going with HostGator web hosting service:
Inconsistent Speeds
Although HostGator offers pretty fast speeds and reliable uptime there are reports of loading speeds varying. Sometimes you'll notice that your site loads very fast, while other times you might see a lag.
There's a variety of reasons this could occur. But, some of the most common is due to other sites on the same shared server using too many site resources. Or, your site is experiencing a surge in traffic volume, and as a result, it's loading slowly.
It could even be due to issues on your own site, such as not optimizing your images, or website the right way.
Free Backup Limitations
A lot of the hosting plans on HostGator's site offer free backups as part of their feature set. However, these backups aren't incredibly useful. If you want to backup your site you'll have to do these backups yourself from your cPanel account.
If you want truly automated backups, then you'll need to pay extra. These automated backups also have their limitations and only one week of backups will be kept at a time. So, if you want to restore your site from a version older than that then you're out of luck.
If you're serious about backing up your site, then you'll want to use a third-party backup service.
Delayed Online Chat Support
HostGator has a rock-solid and helpful support team. But, sometimes the wait times can get a little long. This is especially true with live chat. Sometimes the response time will be right away, while other times you might have to wait a few minutes.
This isn't an absolute dealbreaker, but it can be frustrating if you're experiencing an issue with your site that you need resolved right away.
Renewal Fees Can be Expensive
This also isn't particular to HostGator but instead seems to be common practice across the industry. When you first sign up for a hosting package the rates are incredibly low. Plus, the longer you sign up for hosting initially the cheaper these rates will be across the board.
But, over time, usually when your first term is over, then these rates will jump up.
This is called "promotional pricing". Usually, only your first term will be at the low advertised rate, while when the time comes to renew you'll notice your renewal rate will be higher.
The Website Builder is Overpriced (Depending on Your Needs)
The free website builder is a pretty cool tool, but if you're doing more than creating a simple couple page website, then you'll run into the limits pretty quickly. The only way to build a large and feature-rich site is to upgrade to one of the paid plans.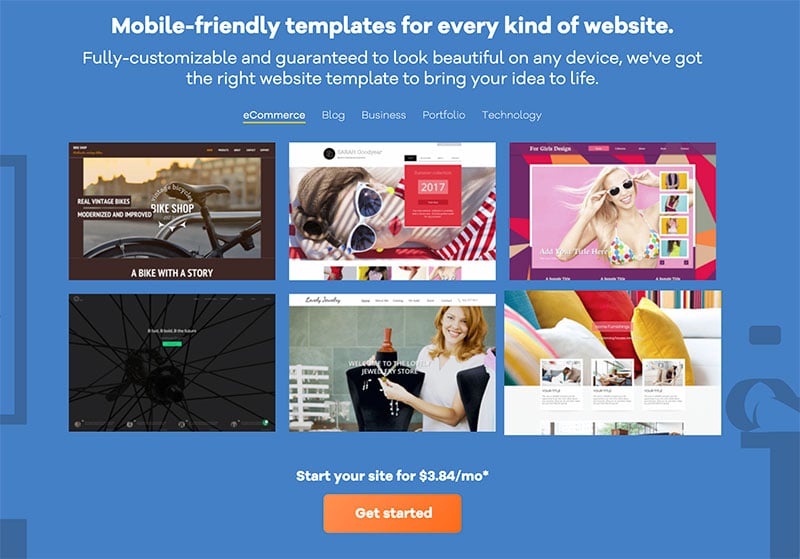 When you tack this price on top of your hosting price, then you might be spending more than you want per month, just to have your site online.
However, you should also consider using WordPress to build your site. You can do this on a budget and build a powerful and feature-rich site.
Hostgator Hosting Packages

HostGator offers a wide variety of hosting plans that suit almost every kind of website owner. From those just getting started online, to site owners who run established, high-traffic websites.
When browsing through the different hosting options and plans available you'll find all the information you need to make the right decision.
You'll find a variety of different hosting options to choose from including, shared hosting, VPS hosting, cloud hosting, dedicated server hosting, WordPress cloud hosting, and even reseller hosting.
No matter your budget or website needs you'll be able to find the right hosting plan for you.
Here's a detailed breakdown of every hosting plan that HostGator currently offers:
Shared Web Hosting Plans for Every User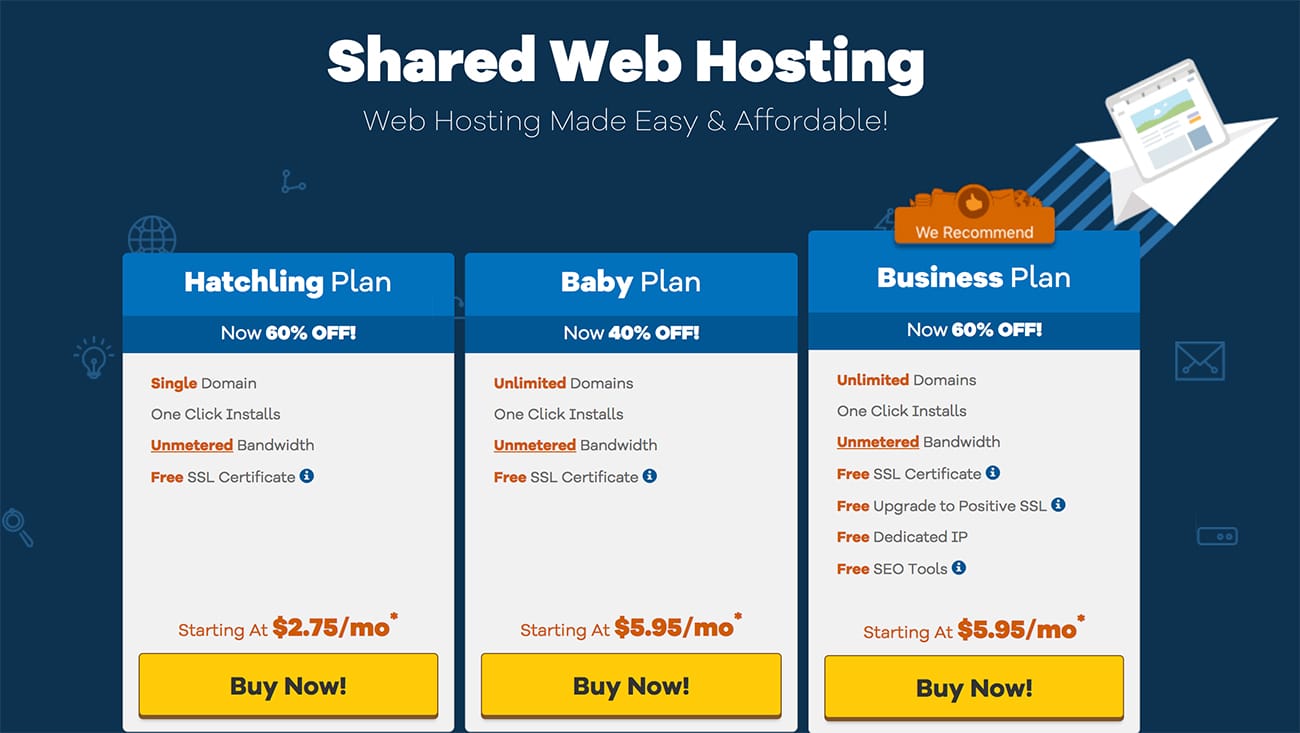 For most people, shared hosting will be the best type of hosting for your needs. Most website owners will be completely satisfied with a basic shared hosting plan. It's the most common starting point for any website owners who are just getting started online.
There are currently three different shared hosting plans, all of which offer introductory rates that are incredibly cheap.
Here's how each shared hosting package breaks down, and what kind of user each package will be best suited for:
Hatchling Plan – From $2.75 per month
The Hatchling Plan is perfect for those starting out and people just setting up their first website or blog.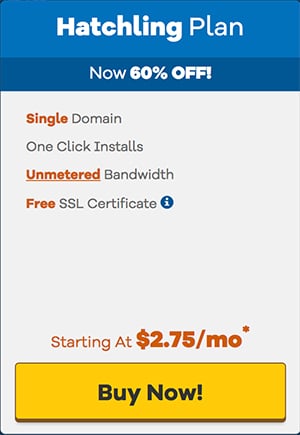 If you've never built a website before and you're looking for the most affordable hosting package, then this is the one you'll want to get.
This plan is equipped with single domain name support, a shared SSL certificate (for improved site security), unmetered website bandwidth, one-click-install support, along with a handful of other useful features.
Here's how the pricing for the Hatchling breaks down:
Pricing for this plan are:
$10.95 per month for a monthly subscription (month to month payment plan)
$5.95 per month for a one year subscription
$3.58 a month for a two year subscription
$2.75 a month for a 3-year subscription.
As with other hosting plans the longer you pay for hosting up-front the cheaper your monthly rate will be.
Baby Plan – From $5.95 per month
The Baby plan is a solid step up from the Hatchling plan. This is one of the most popular hosting plans they offer for one big reason. There's support for unlimited domains. So, if you want to start another website you can simply add it through your control panel.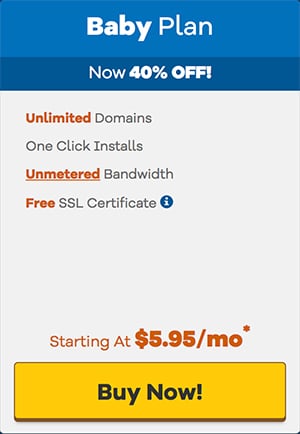 This offers you much more flexibility and freedom. You'll also get access to all of the features covered in the Hatchling plan.
Scaling up to the next level, the Baby plan comes with support for unlimited domain names, ftp accounts and a shared SSL certificate.
Here's how the pricing breaks down:
$11.95 per month for a monthly subscription (month to month payment plan)
$8.95 per month for a one year subscription
$6.95 a month for a two year subscription
$5.95 a month for a 3-year subscription.
Business Plan – From $5.95 per month – Ideal For Small Business
The final shared hosting plan offered is the Business Plan. This plan is perfect for small to medium sized businesses who are serious about their online business. It's packed with features that'll help to elevate your website security, along with improving your search engine rankings.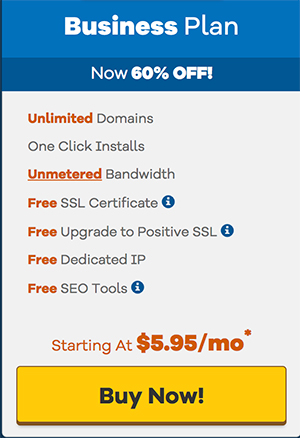 You'll get access to a private SSL certificate, ftp accounts, a dedicated IP address, a toll-free business phone number, along with bundled SEO tools.
Pricing for this plan are:
$16.95 per month for a monthly subscription (month to month payment plan)
$8.95 per month for a one year subscription
$6.95 a month for a two year subscription
$5.95 a month for a 3-year subscription.